When building a new business with so many things screaming for attention, how do you get your company name out there? How do people know what you represent?
You might shout "Website" or smirk "Social Media" or snicker "Attend events". Yes, all three are correct and the cheapest and fastest thing you can set up is really "you" because you already exist and are talking and walking your brand and the business you're in. What you say, how you say it, how people see you represent you and your business. Attached to "You" is your business branding.
Identify what business you're in and who you want your clients to be.
What value are you offering to them, and how do you deliver that value? Get clear on your Brand Proposition (also called a Value Proposition) and your Unique Selling Position (USP). And yes — no matter what you do and who you are, you do have competitors.
At a recent university pitching event that I mentored, the students who were pitching were amazing. They identified the problems students were facing and came up with probable solutions. Unfortunately, some of them didn't realize that some people in the working world had already built the solution.
Sometimes, you need to think outside your own community. There's nothing wrong with coming up with a solution that is similar to your competitors but what makes people choose YOUR solution?
Step #1: List value proposition statements
Brainstorm with your partner or your team and list all of the value proposition statements you can come up with. For those with big teams, besides involving your marketing and advertising staff, involve your product developers, service and installation partners, logistics, product fulfillment, HR and finance.
There is  "no good idea or bad idea".
The question you want to answer will depend on the level of value proposition you are creating, but essentially these statements should help your ideal customer want to choose your product or service instead of the competition.
Samples of companies which are rocking their value propositions, making it super clear what their targeted clients will get when they buy their solution.
Three little words. That's all that MailChimp needs to tell you what its brand is all about. It's simple, direct, and bold. Use its service and you will send better email — no ifs or buts.
Pagely addresses two of the biggest pain points of businesses with a WordPress website (scalability and security), while also enlisting social proof to give the company credibility right off the bat. Pagely's simplicity and clarity helps prevent it from being overwhelming.
In their value proposition, Freshbooks does a great job of telling you exactly what they do and who it is for, calling out their personas directly.
By boldly addressing them as "non-accountants," FreshBooks not only commands attention but always highlights a common marketer pain point of not being able to understand accounting software.
Invision is dedicated to streamlining the design process by making it easier for people to share, view, and collaborate on design mockups and prototypes. The result? Better design, done faster, and done as a team, as explained in its value proposition.
Step #2: Rank value proposition claims
At this point, you should have a list of possible value proposition claims. But like a RM5 sale, there are the hits and misses.
So now key these value propositions into an Excel sheet and have each team member rank the claim in terms of appeal and exclusivity from 1 to 5, allowing increments of 0.5.
You can then sort from the most to least forceful value.
As a business owner, you should be clear about your business before you start on any creative and branding initiatives.
The value proposition should get your entire value delivery ecosystem — from product managers to suppliers to channel partners to PR, advertising, Web and design agencies — on the same page about the value your company delivers to customers as a way to differentiate your brand in the marketplace as well as make sure that value is actually being delivered by your company.
Second, have a clear idea of your ideal client 
Your brand is not all about you — even if you're a "personality brand." Your visual brand identity, and the way you message your brand conversation, has to appeal to your Ideal Client.
Third, put your branding insights down on paper. 
It doesn't have to be complex. Just start with some ideas, and get them into some sort of order before you approach a creative professional. Then be prepared to have them re-explored, finessed, and re-worked in service of your business goals and brand objectives.
Put your Brand Proposition, your USP, what you know about your ideal client, and your hunches as to colour palette and other design ideas into an outline or a summary you can give to a copywriter for guidance and inspiration, or use your outline or summary to complete the intake questionnaire your copywriter gives you.
Once you've identified your target audience, choose how you want them to see you by choosing colours that resonate well with the service that you are offering.
Fourth, find and hire the right copywriter.
Don't just hire the first copywriter you follow on Twitter. Or the cheapest in your community. Take your time to get some referrals from people you know (whose judgment you trust), to follow up with clients featured on the copywriters' praise page, to read those copywriters' sales pages and get a feel for their process and rates (if published), and to check out their portfolios or samples.
Different copywriters have different styles of writing. Some have a more serious tone, some lighter.
It may sound obvious, but if you don't like the writer's writing style on their own blog, sales page, or in their samples, chances are you won't like what they write for you. Get a copywriter that will write your content in a way that will appeal to your audience.
Many microbusiness owners choose to write their own copy. That's a great choice for some people.
I still write my own copy as I enjoy writing but it does take time and lots of exploration and research.
If you have no flair for writing or just end up staring blankly at the screen waiting for the Creative Gods to appear, choosing to work with a copywriter can make the process feel surer, smoother, and easier.
The copywriter's job is to organize, structure, and express the ideas your website needs to convey. His job is not to help you figure out what your business really does or who you really serve. The copywriter can only work with the clarity you give her. If you don't have clarity, neither will she. Copy written without adequate clarity results in low conversion (i.e. people won't buy what you're selling, no matter how great the sales page 'sounds').
It's helpful to give her the Creative Brief or outline of branding points you already have, but be prepared for her to ask you a few questions you may not have thought of already.
Now, you've heard the saying form follows function? This is entirely true with a business website. The web designer generally follows the lead of the branding specialist and/or the copywriter in creating a visual design that will support what the content needs to do to help your offers convert.
Fifth, find and hire the right web designer.
Nowadays you should be getting a web designer who also develops your site (or should seamlessly outsource the development so that you're none the wiser.)
When you contact your web designer, tell her you've already worked out how your brand should be seen and what written content will be placed in the site. You will need to prepare a content plan for the site.
You can use Word or Powerpoint to show the web designer what pages make up the site, which pages appear in the main navigation menu as opposed to being linked to from other pages, and what's the most important thing for the site visitor to do on each page.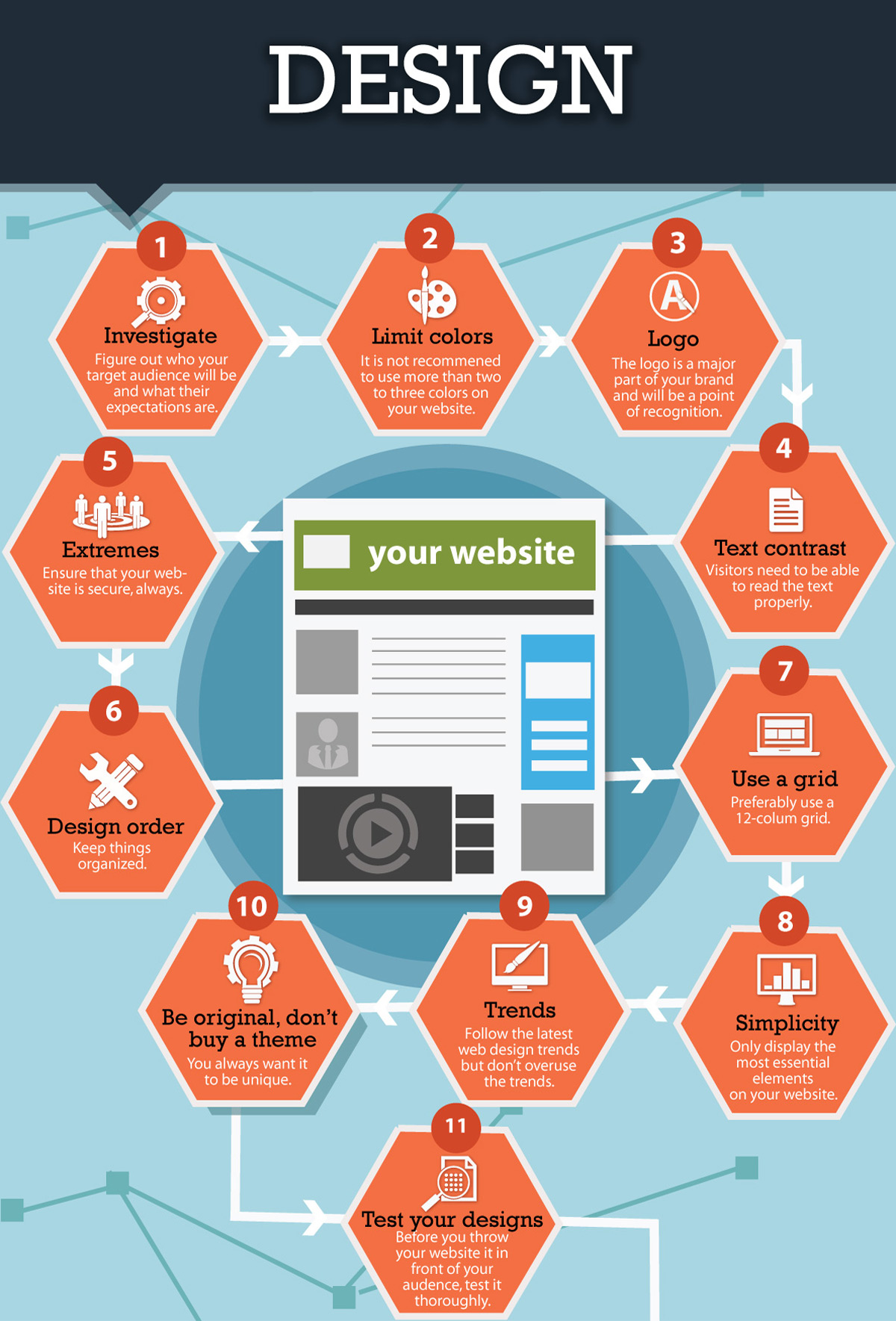 The web designer's job is to create a visually pleasing, user-friendly virtual home for your content to live. She has the ability to see what layout(s) would best support your content and your buyer's journey through your site. She's essentially a problem-solver. If you hire a great web designer, you can trust her to see things you can't see about the way your site needs to look and function.
Her job is to make your brand visually appealing and memorable.
Conclusion
So the best process flow for bringing a business brand online is: 1st — branding, 2nd — copywriting, and 3rd — web design.
Think of branding as your house, the copywriting as your furniture/electrical appliances and the design as your consumables. You can't have consumables placed in the garden before the furniture/electrical appliances and you can't place your furniture/electrical appliances before building or moving into a house.
At Making Changes PLT, we offer all three services under one astute roof — so you can relax and let the process unfold all around you while you work on your financial projections, sales and deliverables. I did say that there are a lot of things shouting out for attention in a business ;p