People buy from people they trust. When building a business, building a successful brand should be a priority. Unfortunately, many business owners feel that they don't want to invest in branding and marketing as they cannot see the ROI. They can also be confused about how much it will cost them.
With the rise of social media, branding and marketing doesn't have to be expensive or difficult. In fact, building your brand on social media is one of the easiest ways to get your brand out there. 80% of consumers are more likely to evaluate solutions from the brands they follow on a social network.
Have a consistent social media profile across every social channel you use
If your social media profiles are consistent across different channels, then your visitors will form positive associations. They'll know what to expect, no matter the social network. This persona should also be reflected in all communication tools be it your website or your brochures.
If you're building a personal brand, choose a profile picture that's used across your social networks. Once you've chosen a profile picture, you'll then need to set the tone for your brand's voice using imagery, colors and overall outlook.
Your brand's voice can be conversational and witty or formal and professional. It all depends on your brand values.
Here are four specific aspects, courtesy of Stephanie Schwab, that you can ponder, when deciding on your social media brand voice.
For JustHanniz, I try to be as casual and conversational as possible. For Best Events, it's a little more professional as I'm targeting bigger corporations. For my personal blog and instagram, I'm very much a whimsical artist and dreamer. Yes, I portray a different side of me depending on my audience (no, I'm not schizophrenic).
When you're building a brand for a company, it's a good idea to create a guide so that your staff in charge of your social media channels will continue to sound and look the same.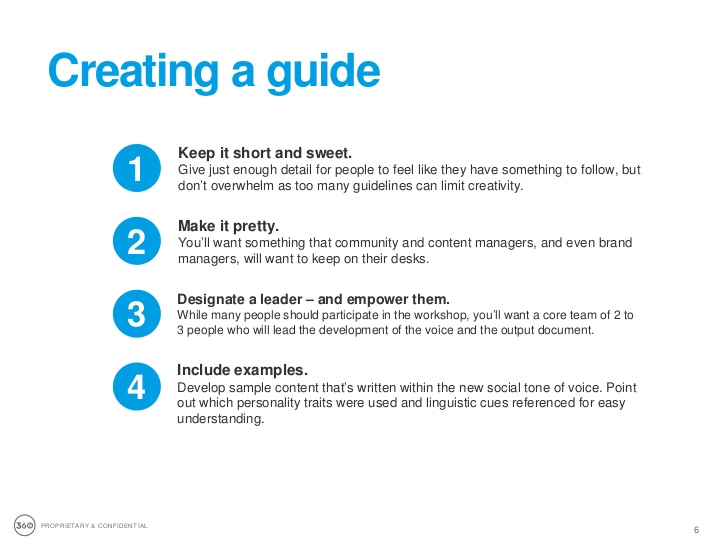 2. Automate and humanize
Creating original content for your social media channels can be very time consuming but is essential. I take about an hour to write a blog post so I know it can be tiring. It's important to remember that sounding human is even more essential.
You can share your educating blog posts and updates. But, always ask for feedback and encourage discussions about your posts.
And, don't forget to occasionally entertain your followers.
I'm working on my social media channels too. I share lots of educating posts but I'm guilty of not asking for feedback and I hardly entertain my followers.
PS/ Please leave your feedback below once you've read this post! What do you want me to discuss next? How often do you want me to write?
Something I've done is to share some behind the scenes photos especially for Women on Top c/o Making Changes and Hatch @ Damansara Intan. These photos receive more response for sure.
If you're a company, then share pictures from your events. Or, simply share photos of your employees – it's always good to put a face to your brand name. Worq at Glo Mall does a good job when it comes to sharing community events happening at their venue.
This photo was found on their Facebook page. It would have been better with captions so that people who are new to the space know what sort of events are run there.
A major aspect that most brands should practice is replying to the comments on their updates and engaging with their social media followers. If you never communicate with your advocates, it would appear as if you don't value their presence and time. A huge Boo-boo is deleting negative comments and feedback from customers. Please don't do this. It shows that your company doesn't want to acknowledge its mistakes and would rather sweep the problem under the carpet. People make mistakes. So do companies. How you respond makes all the difference.
3. Share difference content on different social media platforms
It's easy to cut and paste content across the board but your followers who are already on one channel will then see no need to follow you on other channels.
Here's a cheat sheet, by Likeable Media, that shows the pros and cons of the major social media platforms.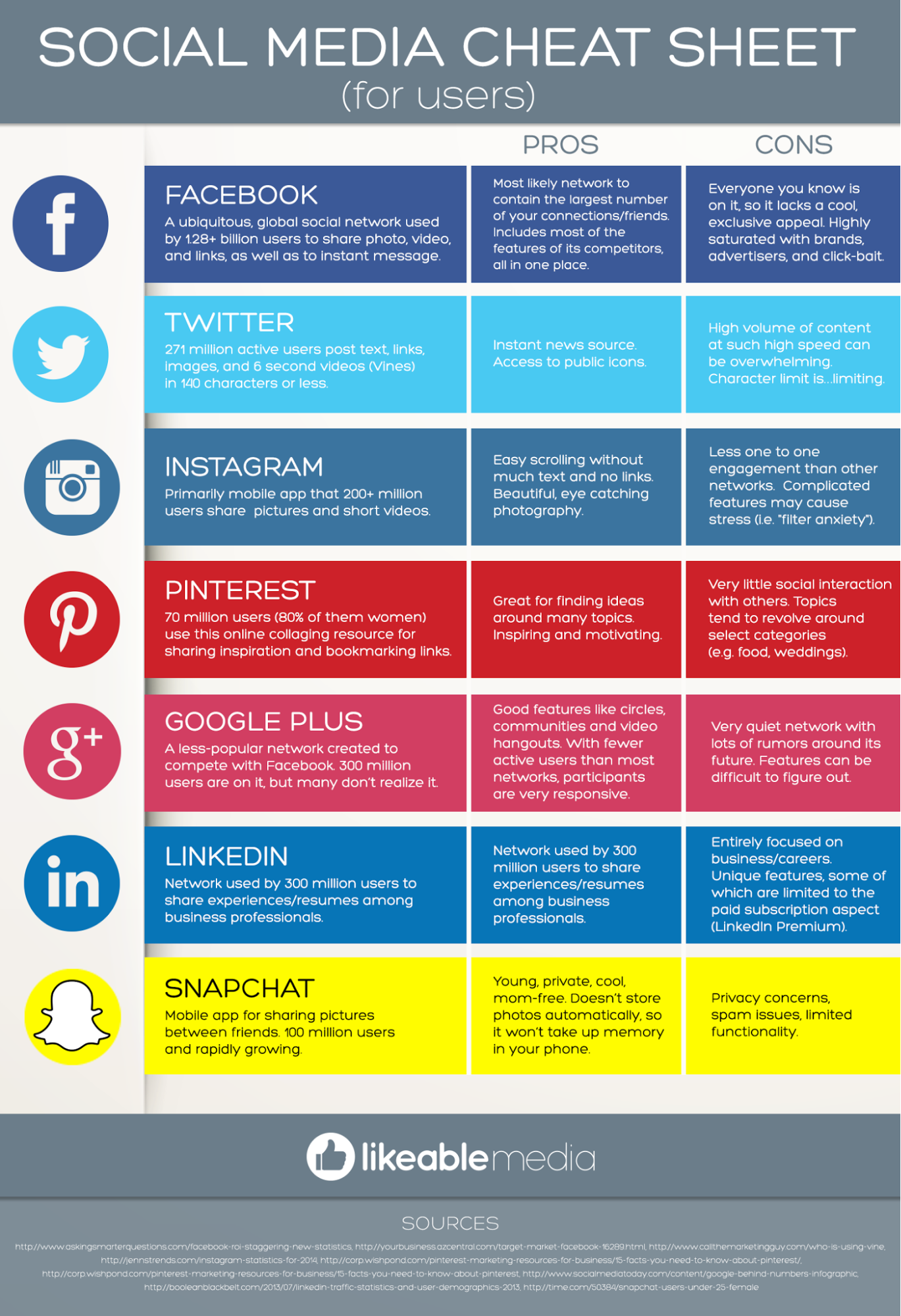 A Malaysian company that has a super marketing team and agency would be Nando's. They are always on the ball when it comes to current trends and are quick to come up with creatives within a day. Their social media presence is strong with different content being shared.
Many potato. So mashed. Much creamy. Such wow.

Red Skin Mashed Potato pic.twitter.com/97owShIYiG

— Nando's Malaysia (@NandosMY) March 26, 2017
You might be tempted to be present on all social media channels to get a wider reach. However, if you don't think a social media platform audience fits your brand and you don't have the resources to handle content creation for that platform, then don't use it. Not every social network will be right for your business. It's more important to determine which social media sites your target audience is most active on.
4. Create a content calendar and post frequently
I'm guilty of not posting frequently enough. I think most of us are if we're the sole people updating our channels. We get caught up with work, run out of ideas or energy.
If you want to derive good results from your media marketing strategy and build long-term relationships with your followers, then you've got to post regular updates. Otherwise, you'll get lost in the social media noise.
If you've got a documented strategy in place, you'll have an overall view of the kind of messages that you're sending out. Then, you can balance out value-adding posts with occasional promotional updates. You can also schedule updates in advance and save some time.
Here's a social media calendar template by HubSpot and Buffer that you can use for planning your content.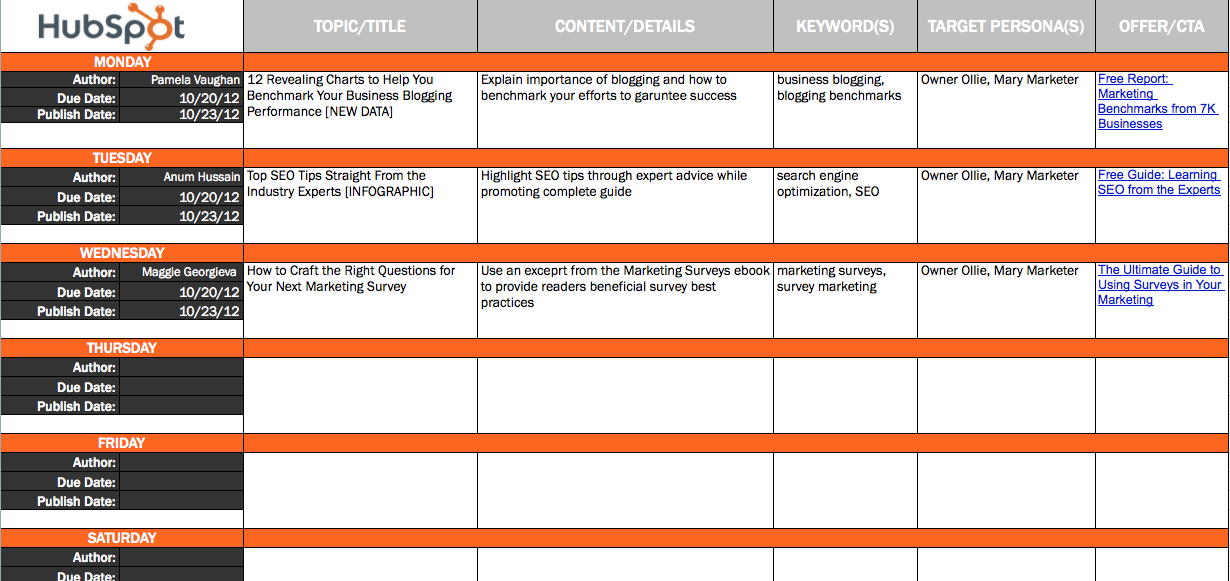 How often should you be posting without the risk of being unfollowed? I'm subscribed to business pages such as Inc.com and fun pages like Buzzfeed. I receive their posts on a daily basis without getting tired because their content is interesting and beneficial.
You'll need to test and find out your optimal posting frequency to build your content marketing strategy.
Here's a simple schedule that you can follow at the beginning:
Facebook: A couple of updates per day
Twitter: Three times per day (if you've got the resources, then you can even send 5+ tweets everyday)
Instagram: Once per day
LinkedIn: Once per weekday
Remember that social media is all about real-time updates. Although it sounds counterintuitive, by planning ahead and practicing, you put yourself in a better position to react with wit in the moment.
The timely and massively popular 'Dunk in the dark' tweet by Oreo, during the Super Bowl, reshaped their brand image.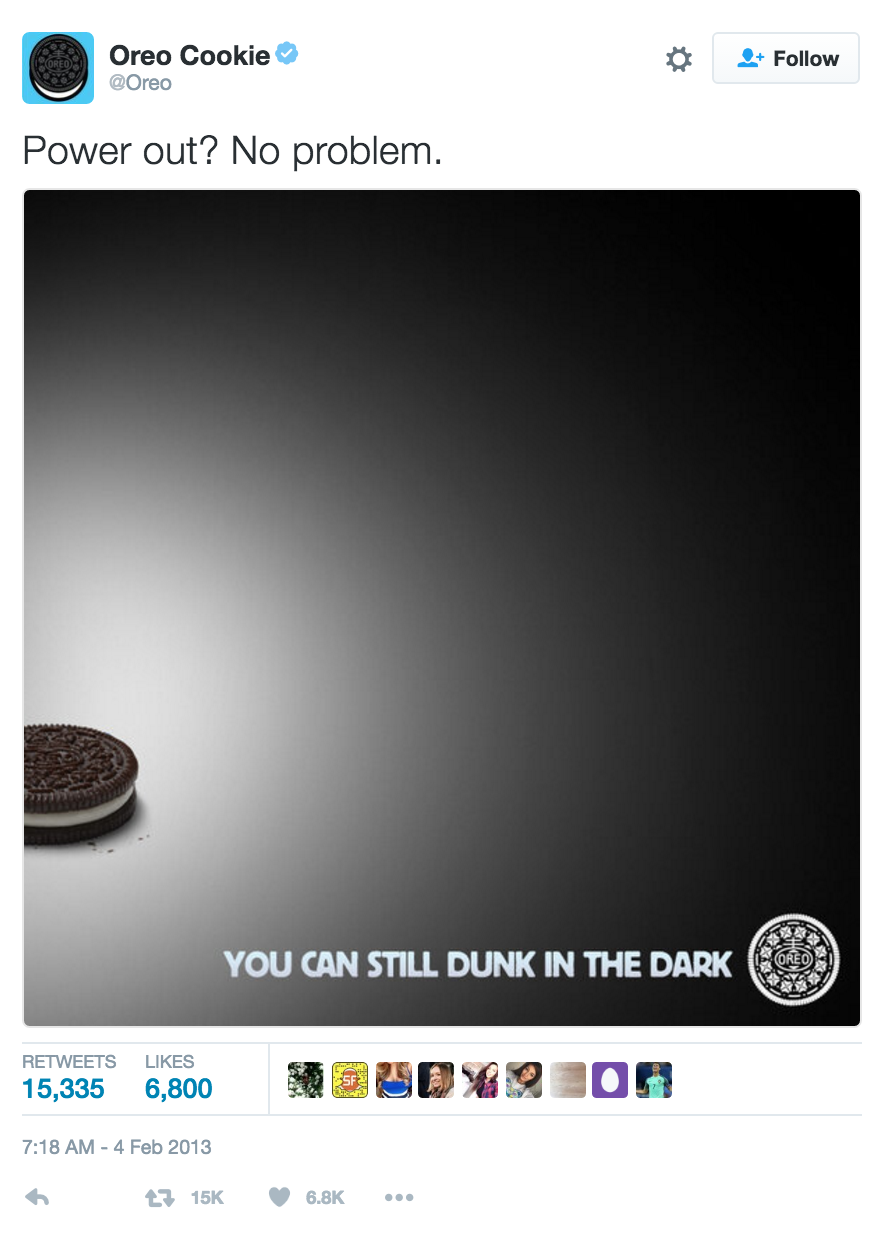 But, did you know that the tweet was almost 18 months in the making?
The company had set up a war room and a team to engage with followers live on social media.
Setting up a calendar will help in organizing your efforts and allocating appropriate resources to your social media platforms. From there, it's really about infusing your media strategy with creativity.
5. What can you do NOW?
We've been discussing lots of strategic stuff but if you're just starting out, how do you start social media marketing plan?
a. Define your target audience
If you're targeting entirely different kinds of people across social networks, than you'll need to create multiple brand personas like how I do for my business and personal accounts. Your social media updates need to appeal to each section of your audience. Writing down the characteristics of your audience brings clarity when writing updates and when devising your overall social media strategy.
b. Assign tools and your social media marketing team
Social media marketing isn't always a one-man show, especially if you're a large company whose media strategy involves a high number of social networks. I've already shared a content calendar template. But, also select the tools that you'll use for posting social media updates and communicating with team members.
I would recommend that you keep it simple. You can use Hootsuite for scheduling updates on all of the major social media platforms. For writing updates, you can use excel spreadsheets. Have regular meetings with team members and remember to remind the rest of your colleagues to constantly check your social media channels so that they are not caught off guard when a client asks them about something posted. Having your colleagues liking, commenting and sharing your content is a good idea too.
Lay down the complete process and assign team members that will:
choose updates for posting,
schedule the updates,
respond to comments on your posts and engage on behalf of your brand.
c. How will you handle criticism?
You could have a super social media strategy in place, have great consistency and authenticity, and engage well with your target audience–and then get derailed with criticism.
There are millions of negative social mentions about brands in Malaysia alone, every single day. What will you do, if/when an angry customer posts negatively about your brand?
Mishandling complaints can lead to backlash, ultimately destroying your brand image and your media marketing efforts. So, who will respond to negative comments on your brand's products and services? Determining this ahead of time will allow you to work with your team to choose the wisest path. Occasionally, it makes sense to keep quiet about criticism, as it might escalate the issue at hand. (In other words, don't feed the beast.)
Conclusion
Social media marketing is an incredible way to build your brand. Social networks have millions of users from your target audience–people who are socializing every day and are eager to discover new brands (if the brands are not busy churning out sale-sy content and click baits).
For creating your brand, you'll need to put in a lot of energy to constantly be present and consistent. But, the benefits will be well worth it.
PS Please remember to leave your feedback below once you've read this post! What do you want me to discuss next? How often do you want me to write?